Oceans, Atmosphere and Biosphere in Past, Present and Future
How does the Earth system work and what are the biophysical boundaries that define a safe operating space for human development?
Research Department 1 (RD1) provides the Earth system science foundation of PIK. It focuses on the understanding and modelling of the physical and biogeochemical processes that govern the Earth system and its response to human interference. RD1 research is guided by four major themes that were pioneered and established through research at PIK:
Overarching Topics
Tipping points. Non-linear Earth system processes and threshold behaviour.
Planetary boundaries. Definition, quantification and operationalization of planetary boundaries and their interactions.
Earth trajectories. Dynamics and modes of operation of the Earth system (for example circulation changes, feedback systems) under natural and human forcing, and the resulting long- and short-term trajectories.
Extreme events. Development of an understanding of the dynamical mechanisms and changing statistics of extreme weather events on a warming Earth.
Earth System in Past, Present and Future
For this purpose, RD1 develops and applies models of the Earth system and its components, evaluated with historical and paleoclimate data for different climate states. It analyses observations of current and computes scenarios of future climate and biosphere change to better understand Earth system-wide feedbacks and interactions.
Impact of Human Activity
RD1 investigates the role of human activities such as greenhouse gas emissions and land-use as major drivers of Earth system change and their impacts on climate, oceans, ecosystems and societies. It thus provides the natural science groundwork for PIK's research on how to govern the global commons and to maintain a safe and just operating space for humankind in pursuit of sustainable development within planetary boundaries.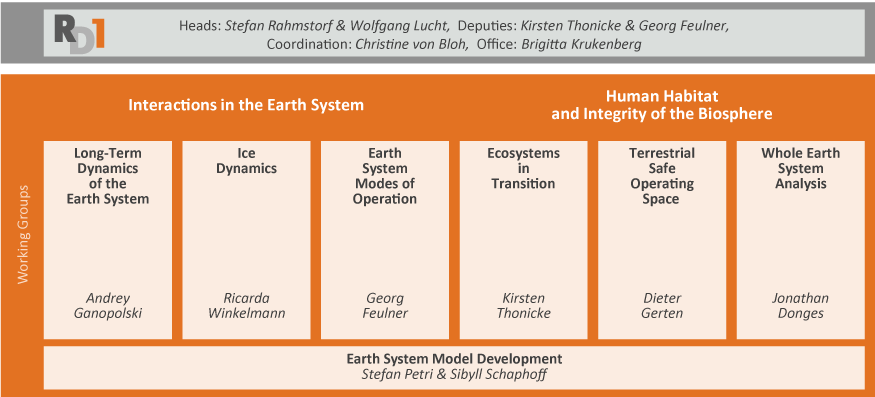 Research conducted in Research Department 1 comprises seven working groups and a FutureLab, each headed by experienced scientists.