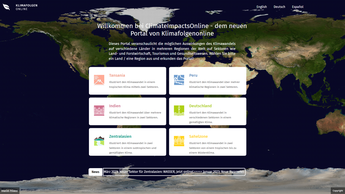 The portal KlimafolgenOnline (http://www.klimafolgenonline.com) is a result of climate impact research for Germany within different sectors, such as agriculture, hydrology, forestry and the energy sector and also climate-dependent tourism. Building on many years of experience in these areas, results for the entire German region are made available to the public.

Based on data from the ISIMIP project, different regions of the world (the Sahel, Central Asia, India, Tanzania, Peru) have been investigated and integrated for climate impacts in specific areas, starting from climate development. More are being planned.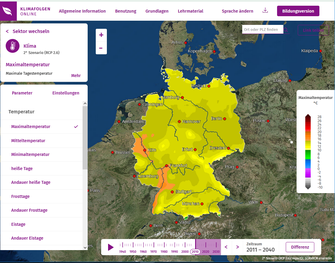 Via two environmental education projects - PIKee and PIKeeBB, the portal was further developed for school use. When the portal application for Germany is called up, the educational version with corresponding content is available.

In the environmental education project PIKee, KlimafolgenOnline was further developed for use in school lessons.

The aim of the PIKeeBB project was to make the web portal KlimafolgenOnline-Bildung.de usable for vocational training and to provide teachers with appropriate materials for teaching.
| | |
| --- | --- |
| | The background was discussed in 2012 at the conference "Climate Consequences for Germany". Download the brochure  |
---
Citation: ClimateImpactsOnline (year): URL: Internet address (Date dd.mm.yyyy)