23.11.2018 – From Dar es Salaam in Tanzania, to Lima in Peru and New Delhi in India – EPICC kicked off its transnational collaboration with a series of workshops with international government and science officials to strengthen resilience against disruptive weather phenomena and change at national, regional and local levels. The Potsdam Institute for Climate Impact Research (PIK) is leading the execution of the East Africa Peru India Climate Capacities (EPICC) project together with its project partners The Energy and Resources Institute (TERI), based in New Delhi, and the German Meteorological Service (DWD) in Hamburg.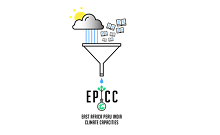 Capacity building and knowledge transfer is one of the five modules the EPICC project encompasses. These yearly workshops in the partner countries, developed according to preferences and necessities of partner countries, aim at stakeholder dialogue and scientific exchange. In India, officials from the Indian Meteorological Department and TERI (The Energy and Resources Institute) participated amongst others. In Peru, officials from the Ministry of the Environment and the Peruvian Meteorological and Hydrological Service were among the participants. In Tanzania, representatives from the Ministry of Agriculture and scientists from the Tanzania Agricultural Research Institute, the Sokoine University of Agriculture, International Organization for Migration Tanzania participated amongst many more.
EPICC aims to reduce the gap between climate research and its application in policy, business and societal decisions. It is an opportunity for the partners from Tanzania, Peru and India to advance their expertise particularly regarding agriculture, hydrology and water resources, and migration. Furthermore it provides knowledge about the use of tailored climate information for national needs. During the three year duration of the project knowledge transfer activities and research cooperation will provide local partners with the capacities to work with seasonal forecasts and assess current and future climate impacts including migration patterns.
Find out more about EPICC at PIK: https://www.pik-potsdam.de/research/projects/activities/epicc