Homepage of Professor Ottmar Edenhofer
Designated Director and Chief Economist of PIK - Director of MCC - Professor at Technische Universität Berlin
News
In the Washington Post Ottmar Edenhofer is warning of the consequences of coal plants: "[...] when we continue with the existing coal fired power plants, and build the new ones, we are closing the door to the 2 degree target".

In the German newspaper "F.A.Z.", Ottmar Edenhofer advocates an ambitious minimum price for CO2 as an instrument for efficient emissions reduction and easier international cooperation (17 November).
In the commentary  "Aligning climate policy with finance ministers' G20 agenda" published in Nature Climate Change, a team of authors consisting of Ottmar Edenhofer, Brigitte Knopf, Céline Bak and Amar Bhattacharya recommends using carbon prices to deal with declining tax revenues and the need to finance infrastructure around the globe.
The paper "Self-Enforcing Intergenerational Social Contracts for Pareto Improving Pollution Mitigation" authored by Ottmar Edenhofer, Nguyen Thang Dao and Kerstin Burghaus was published by Environmental and Resource Economics (ERE). It discusses a scheme of contracts between any two successive generations in an overlapping generations model with an environmental externality and the conditions under which a certain setup promises to be successful.
The developing and emerging economies play a key role in the future prevention of CO2 emissions. An international emissions trading scheme could generate additional revenue for these countries and relieve them financially. With the help of this money both justice issues would be addressed and international cooperation would be promoted—at least at first sight. However, researchers at the Potsdam Institute of Climate Impact Research and the Mercator Research Institute on Global Commons and Climate Change warn that this new source of revenue also carries risks for economic development. The authors Ottmar Edenhofer, Ulrike Kornek and Jan Steckel et al. have now published their results in the study "The climate rent curse: new challenges for burden sharing" in the scientific journal International Environmental Agreements: Politics, Law and Economics. Link
In an article published in "Le Monde" on 13 October 2016 Ottmar Edenhofer explains together with Purnamita Dasgupta and Kristin Seyboth why there is no tragic incompatibility between economic growth and climate protection, between effectivity and equality. pdf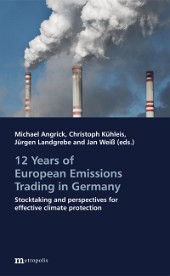 12 years of European Emissions Trading Scheme in Germany
In a book edited by Dr. Michael Angrick, Christoph Kühleis, Dr. Jürgen Landgrebe and Jan Weiß from the German Emissions Trading Office (DEHSt), Ottmar Edenhofer, Christian Flachsland and Lisa Katharina Schmid present their reform ideas for the EU emissions trading scheme. A number of further authors from science, policy and influential associations contributed insightful articles.
Global carbon pricing for more effective climate cooperation
Achieving the Paris climate goals requires better international cooperation. A new book, to which MCC Director Ottmar Edenhofer has contributed, explains how this can be done.
Although the Paris Agreement is the strongest symbol of international cooperation on climate protection so far, the implementation of the agreed targets is still lacking. Instead of individual commitments for emission reductions by each country—which is the way the agreement currently works—there should be a common commitment. This is the proposal of the new book "Global Carbon Pricing: The Path to Climate Cooperation", which has now been published by leading economists and climate scientists from all over the world. Renowned economics professor Axel Ockenfels from the University of Cologne is one of its editors.

The book "Klimapolitik. Ziele, Konflikte, Lösungen", authored by Ottmar Edenhofer and Michael Jakob is now available. It gives a short overview on climate policy and the ensuing conflicts and options for solutions. The intention of the authors is to present the actual state of research in generally intelligible terms without oversimplifying the complex relations necessary to avoid anthropogenic climate change.
Short biography
Ottmar Edenhofer is Professor at the Technische Universität Berlin and widely considered to be one of the world's leading experts on the economics of climate change. He is Deputy Director and Chief Economist at the Potsdam Institute for Climate Impact Research (PIK). In addition, he heads PIK's Research Domain 3 Sustainable Solutions which received an excellent evaluation by the Leibniz Society in 2014. Following the strategic decision of PIK in 2007 to become more solution-oriented with interdisciplinary Research Domains, Ottmar Edenhofer formed the research agenda of this department. He was pioneering in giving the institute which traditionally focused on large-scale quantitative computational modelling of the earth and its processes a social science research agenda providing rigorous and meaningful information on climate change mitigation to society. In 2012 he was appointed director of the newly founded Mercator Research Institute on Global Commons and Climate Change (MCC). The work of the MCC was considered "excellent" by an external scientific evaluation board commissioned by Stiftung Mercator in 2015 and ranked second in the category energy and the environment in Europe within the "Prospect: Think Tank Awards 2016". The International Center for Climate Governance (ICCG) repeatedly ranked the MCC among the three best think tanks worldwide in the field of climate change.
From 2008 to 2015 Ottmar Edenhofer served as Co-Chair of Working Group III of the Nobel Laureate Intergovernmental Panel on Climate Change (IPCC). In this capacity he led the fifth assessment cycle and edited the report on "Climate Change 2014: Mitigation of Climate Change" and the "Special Report on Renewable Energy Sources and Climate Change Mitigation". The Fifth Assessment Report on Climate Change Mitigation has been considered a landmark report. It provided the scientific basis for the Paris Agreement. Its analysis on the feasibility of the 2°C-target was groundbreaking and provided essential information for decision makers. 
Ottmar Edenhofer's research influences political decision making. He is advising ministers such as the German Foreign Minister Heiko Maas and the Federal President Frank-Walther Steinmeier as well as the World Bank on questions of green growth. Furthermore, he is a member of the "High-Level Commission on Carbon Prices" chaired by Joseph Stiglitz, Nobel Laureate in Economics, and Lord Nicholas Stern at the invitation of Ségolène Royal and Feike Sijbesma, Co-Chairs of the Carbon Pricing Leadership Coalition (CPLC) High Level Assembly. The commission is preparing a scientific assessment for the World Bank Group and International Monetary Fund spring meetings in 2017. In connection with the German G20 presidency in 2017, Edenhofer heads the T20 Task Force "Climate Policy and Finance" preparing scientific policy advice for the G20 and is a member of the OECD Advisory Council "Growth, Investment and the Low-Carbon Transition". He is further part of the "National Expert Advisory Council on Climate Change" for Ireland which was set up in 2015 in the framework of the "Climate Action and Low-Carbon Development Bill 2015". The Council advises and makes recommendations to the Minister for the Environment, community and local government as a national mitigation plan is prepared. Ottmar Edenhofer has been appointed Coordinating Lead Author of the chapter on Economic Growth, Human Development and Planetary Welfare for the report "Rethinking Society for the 21st Century" by the International Panel on Social Progress (IPSP). The Panel includes renowned economists and works under the patronage of Amartya Sen. The FAZ ranked Edenhofer repeatedly among the 15 most influential economists in Germany.
Ottmar Edenhofer has published articles in Science, PNAS, Nature Climate Change, Resource and Energy Economics, Energy Economics, Macroeconomic Dynamics, World Development, Journal of Environmental Economics and Management as well as other peer-reviewed journals and authored a number of books. His publications address the design of instruments for climate and energy policy, questions of growth, technological change and development, public finance, welfare economics, distributional effects of climate policy instruments, game theoretic aspects of designing international agreements, long-term scenarios of the climate and energy system, mitigation costs and mitigation strategies, as well as the science-policy interface. His work has been heavily cited, which is illustrated by an h-index of 27 in Scopus, 24 in ISI Web of Science and 43 in Google Scholar.
He supervised 40 successfully completed PhD projects and currently supervises 21 PhD students. His former PhD students received prestigious prizes for their dissertations and some of them have been appointed to professorships in the meantime.
Edenhofer's work has been picked up e.g. by The New York Times, the Economist, China Daily  Nature, Der Spiegel, ARD, ZDF and Deutschlandfunk. He frequently contributes to major media publications such as DIE ZEIT, Süddeutsche Zeitung and Frankfurter Allgemeine Zeitung.


(Photo: Thomas Köhler/phototek.net)