2016/01/25 - The newly elected top German scientist in the Intergovernmental Panel on Climate Change (IPCC), Hans-Otto Pörtner, visited the Potsdam Institute (PIK) this week for an intense exchange about challenges of the next climate science assessment report. It will be the sixth of its kind and due in 2022. Pörtner, a senior biologist at the Alfred Wegener Institute for Polar and Marine Research in Bremerhaven, heads the part of the report assessing climate change impacts. This is a core research issue of PIK. What is more, for half a decade PIK's chief economist was head of the IPCC's working group on mitigation.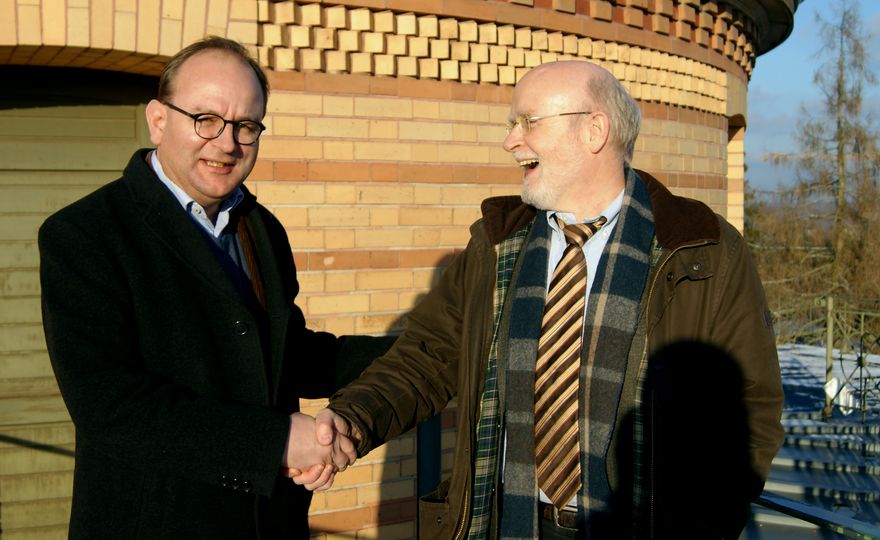 "I had several meetings in Berlin and used this occasion to meet with Ottmar Edenhofer and discuss his experience in the recent IPCC report process, as well as for an exchange about new approaches in climate impact research," Pörtner said. "With my colleagues at PIK I'm sharing the intention to carry the debate about climate impacts and the resulting consequencies even further into our society."
The exchanges at PIK were on the role of so-called shared socioeconomic pathways for the next assessment report, as well as on the model intercomparison projects for climate impacts in general and agriculture in particular that Potsdam researchers are heavily involved in. Pörtner met with a number of leading scientists, including PIK director Hans Joachim Schellnhuber, Vice Director Ottmar Edenhofer, and Hermann Lotze-Campen, chair of PIK's research domain "Climate Impacts and Vulnerabilities".
"We will do whatever we can to support our most esteemed colleague Hans-Otto Pörtner in his task of compiling an important part of the next IPCC report," Edenhofer said. "This is a tough job, I dare say, at the intersection of science and policy. I will share what I learned when doing this in the past five years, and of course PIK will gladly contribute its expertise in impact science."