07/04/2011 - Leading scientists and politicians from all over the world are to debate new pathways for international climate negotiations – this was suggested by the Indian Minister of Environment and Forests during a visit to the Potsdam Institute for Climate Impact Research this Monday. In time before the next round of negotiations of the global community of states will take place in Durban, South Africa, before the end of the year, Ramesh wants stakeholders to exchange views with the sciences. The question of a fair share of rights for greenhouse gas emissions could be central. "The work of the Potsdam Institute in this field has been groundbreaking", Ramesh said.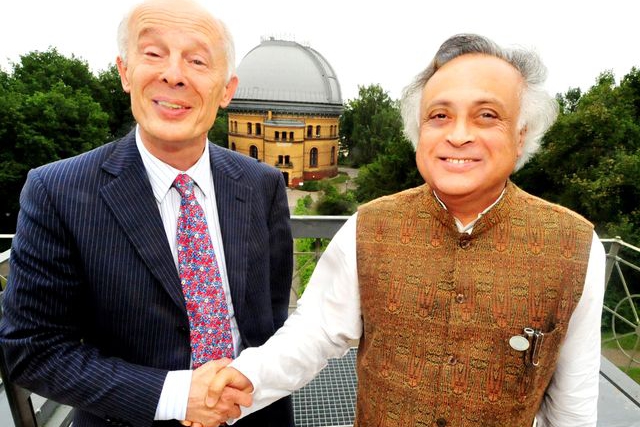 "The world of climate negotiators and the world of science is divided by a huge gap", Ramesh said. "In the next few months, I will try to bridge that gap." Ramesh is known to be one of the world´s most important environmental politicians, which makes his initiative especially significant.
"Of course we are glad to contribute our knowledge if political stakeholders like to use it", PIK director Hans Joachim Schellnhuber said. The request by the environmental minister of the world´s largest democracy to host such a workshop together is of course an honour to the institute. Remarkably, "this is the initiative of a major emerging nation, not a traditional industrial country", Schellnhuber said. "This could really advance the debate on equity and emission reduction."
According to Ramesh, the aim would be to bring economic development and climate protection into accord. For him, a starting point is the so called budget approach that was presented in 2009 by the German Advisory Council on Global Change (WBGU) chaired by Schellnhuber. To meet the target of limiting global warming to a maximum of two degrees in regard to preindustrial level, humanity can deposit only a limited amount of greenhouse gas in the atmosphere. This has been calculated by PIK scientists.
The remaining CO2 budget could be distributed to the different nation states in a way that every man on earth gains the same per capita emission rights. On these grounds the states could trade their rights among each other. The industrialized countries could effectively buy time to adapt their economies. For developing countries, the benefits from trading emission rights could open up perspectives for sustainable development.