12/22/2011 - The Potsdam Institute for Climate Impact Research (PIK) is one of the most important scientific institutions in this field of research worldwide; many international scientists are therefore drawn to Potsdam. A manifestation of the excellent work done at PIK is the growing number of professorships held by PIK scientists or to where they move on.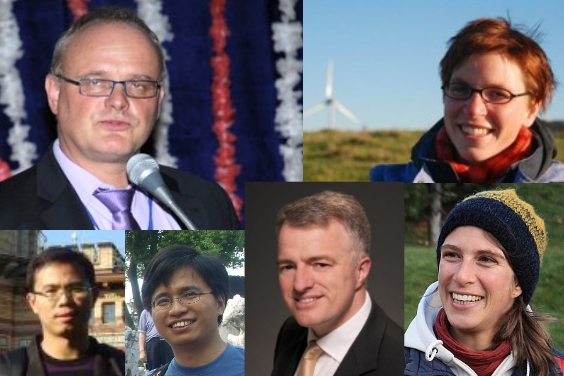 In 2011, Jürgen Kropp, team leader of the North-South-Project of PIK's Research Domain II, took a professorship at the University of Potsdam as new extraordinary professor for "Climate Change and Sustainable Development". He is going to strengthen the link between earth system analysis and climate impact research. He received one of four planned professorships for PROGRESS, the "Potsdam Research Cluster for Georisk Analysis, Environmental Change and Sustainability".
Detlef Sprinz, working in PIK´s research domain "Transdisciplinary Concepts and Methods", was also appointed by the University of Potsdam – as honorary professor in the Department for Economics and Social Sciences. The political scientist and economist is dealing with international environmental policies, climate policies, and in particular with long-term policy strategies.
From PIK´s research domain "Earth System Analysis", two women were appointed in 2011 for assistant professor positions (W1) which they will take up the coming year. Britta Tietjen is working for the biodiversity group of the research domain since 2009. She was offered a W1-professorship by the Institute for Biology at the Free University of Berlin for biodiversity and ecological modeling and is currently setting-up her own working group.
Ariane Walz is also working for the biodiversity group at PIK since 2010 and will take up a W1-professorship for Landscape Management at the Institute for Earth and Environmental Sciences of the University of Potsdam. At PIK, she is working on regional adaptation to climate change, land use modeling, scenario analyses and more.
Further, Yong Zou from PIK research domain "Transdisciplinary Concepts and Methods" became Associate Professor at China Normal University in Shanghai. Humboldt Fellow Jianquan Lu became Associate Professor at South East University in Nanjing.