07/01/2010 – Around 1300 listeners attended the 2nd Climate Lecture at the Technische Universität (TU) Berlin. A TV recording of the event is now available online.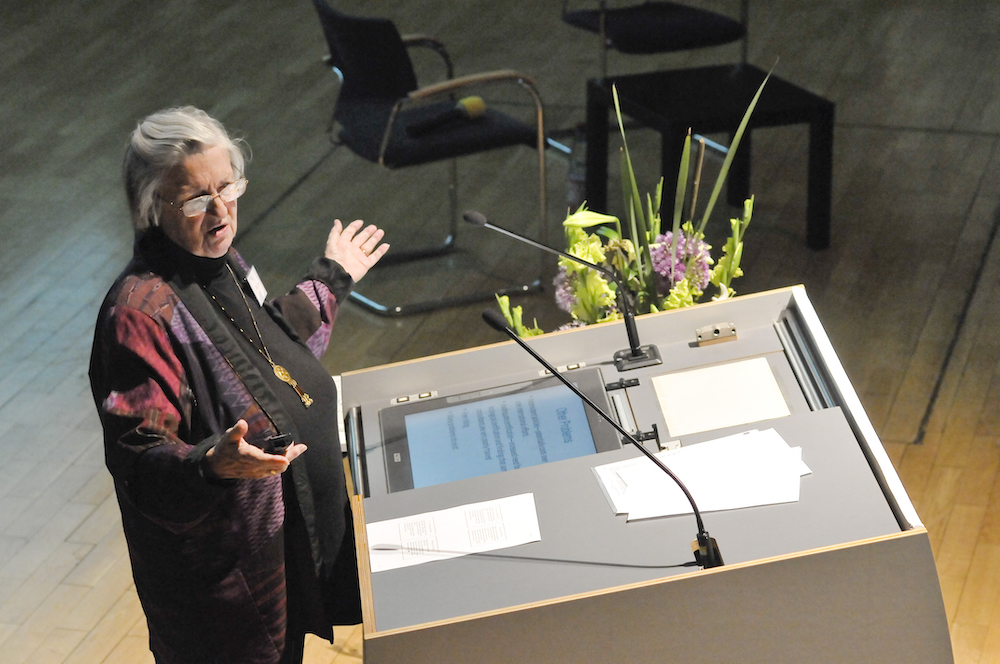 The political scientist and winner of the Nobel Prize in Economic Sciences Elinor Ostrom made it clear during the "Climate Lecture" at the TU Berlin, that focusing only on a global climate accord is by no means sufficient.
According to Ostrom, finding a solution to the climate problem should not be left solely to diplomats. This is why she emphasized the importance of incorporating knowledge of local stakeholders, such as municipalities and small communities, into the global process. Ostrom demonstrated how this approach could help to avoid a fruitless either-or quality between local and global responsibilities.
The complete event is now accessible online.
The opening lecture was given by the president of the Technische Universität Berlin Jörg Steinbach. Ottmar Edenhofer, Professor for the "Economics of climate change" at the Technische Universität Berlin and Deputy Director at the Potsdam Institute for Climate Impact Research (PIK), gave an address to Ostrom. His speech is also available online.
The "Climate Lecture" at the TU Berlin is a series of lectures, which take place in cooperation with the Vattenfall Europe AG and the Potsdam Institute for Climate Impact Research (PIK).

Webcasts and documents of the lecture:
Climate Lecture 2010: Elinor Ostrom "Who affects Climate Change"
http://www.tu-berlin.de/index.php?id=86058
Address to Nobel Prize Winner Elinor Ostrom by Ottmar Edenhofer
http://www.tu-berlin.de/fileadmin/abt4/Bilder/JPG/Climate_Lecture/10-06-22%20LaudatioElinorOstroml.pdf
Elinor Ostrom's Biography
http://www.tu-berlin.de/fileadmin/abt4/Bilder/JPG/Climate_Lecture/OSTROM_SHORT_BIO.pdf
Climate Lecture Website
http://www.tu-berlin.de/climatelecture/