Guest Researcher Sinafekesh Girma Wolde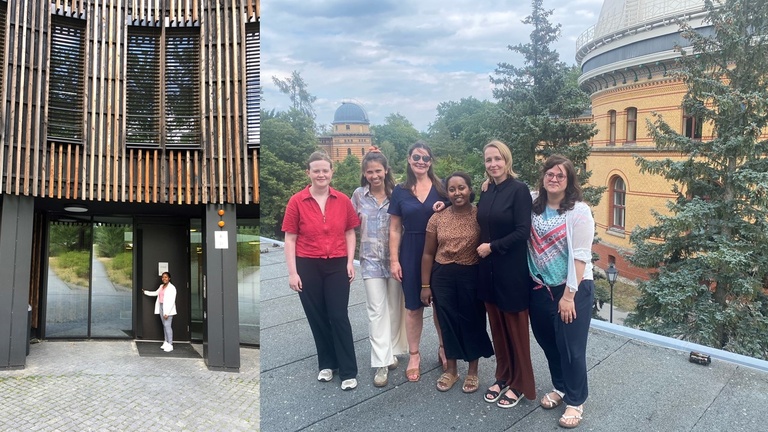 G
Sinafekesh Girma Wolde at PIK and together with B-EPICC's project management team (right). ©Becker
July/August 2023: Sinafekesh Girma Wolde came to visit the B-EPICC team as a guest researcher for a month-long stay guest stay in July and August 2023. She worked with B-EPICC Project Lead Dr. Fanny Thornton in the migration portfolio. Ms. Wolde is a Ph.D. researcher from Politecnico di Milano under the NEWAVE project (located at the Department of Civil and Environmental Engineering). Ms. Wolde's migration research is cross-disciplinary and uses qualitative and quantitative data to identify the role of extreme hydrological events on human migration with the aim to understand possible future migration patterns in Ethiopia, Kenya, Somalia, and the broader East and Eastern Africa region. Her recent publication investigates the causal links between environmental change and underlying non-environmental change drivers of migration and internal displacement in Sub-Saharan Africa.
We got to know Ms. Wolde in-person at the B-EPICC Workshop in Addis Ababa in May 2023. At the workshop, she led a break-out group discussion on land use and natural resources on the migration day and enriched the whole workshop with her questions. Ms. Wolde is also a co-author of the major risk report on climate-conflict-migration linkages in Ethiopia. This is what she writes about her stay at PIK:
"During my brief stay at PIK, I had the privilege of learning from esteemed researchers and gaining valuable insights into their work. Notably, I could engage with several members of the FutureLab Security, Ethnic Conflicts and Migration, co-led by Dr. Barbora Sedova and Dr. Jacob Schewe. One of the highlights of my stay was presenting my Ph.D. research during a brown-bag session thoughtfully organized by Dr. Stephanie Gleixner from the Working Group on Adaptation in Agricultural Systems. This presentation allowed me to share my work and receive constructive feedback from the knowledgeable and curious audience present. I had the pleasure of participating in several one-to-one and group meetings with members of the above-mentioned working groups as well as researchers from the FutureLab on Social Metabolism and Impacts in which B-EPICC is located. These discussions provided in-depth insights into the various models and techniques used by these experts, especially the work done using the gravity model, radiation model, and the combination of deterministic and stochastic models for future environmental migration projection. The knowledge gained from these interactions will undoubtedly prove invaluable in shaping my upcoming research findings.
The stay at PIK also facilitated networking opportunities and the potential for future collaborations, paving the way for meaningful and impactful research partnerships. Additionally, I will be actively contributing to the new B-EPIC project publication on Gambella, Ethiopia, in collaboration with my supervisor, Fanny, and her team. This study promises to offer significant contributions to the field and further enrich my research portfolio. I express my sincere gratitude to my supervisor, Fanny Thornton, whose support and guidance made this collaboration possible. I would also like to acknowledge B-EPICC's Knowledge Broker Mechthild Becker, whose assistance and organization considerably facilitated my stay at PIK.
In conclusion, my time at PIK was a rewarding experience that provided valuable learning opportunities and opened doors for future collaborations. I look forward to applying the knowledge gained during my stay in my research endeavors and contributing to the advancement of scientific understanding in my field."
If you are interested to get in touch with Ms. Wolde, feel free to contact her at sinafekeshgirma.wolde@polimi.it
Guest Researcher Tamirat Bekele Jimma

Tamirat Bekele Jimma and Dr. Stephanie Gleixner at PIK (from left to right).
January - March 2023: The B-EPICC project welcomed its first guest researcher after COVID restrictions had been lifted. Tamirat Bekele Jimma is a PhD student from Addis Ababa University. He is affiliated with the International Livestock Research Institute (ILRI) in Addis Abeba and his research focuses on the interaction between land surface, climate and hydrology in Ethiopia.
ILRI is a CGIAR research center. In Eastern Africa, ILRI works in Ethiopia, Kenya, Tanzania and Uganda with the aim to improve livelihood options and food security through livestock. ILRI has hosted B-EPICC's agricultural expert Dr. Stephanie Gleixner last year and facilitated this collaboration. During his two month research stay at PIK, Tamirat worked closely with the agricultural team of B-EPICC on crop suitability modelling, downscaling of climate data and the evaluation of soil moisture products in order to support the work on his PhD thesis. His most recent publication investigates the spatiotemporal variability of soil moisture in Ethiopia.
If you are interested to get in touch with Tamirat please feel free to contact him at atomictamirat@gmail.com.