2016/11/28 – Max Franks from the Potsdam Institute for Climate Impact Research (PIK) was honoured with the Potsdam Young Scientist Award. Mayor Jann Jakobs handed the prize to Franks at the Einstein Day of the Berlin-Brandenburg Academy of Sciences and Humanities in appreciation of his outstanding achievements in the field of economic sciences.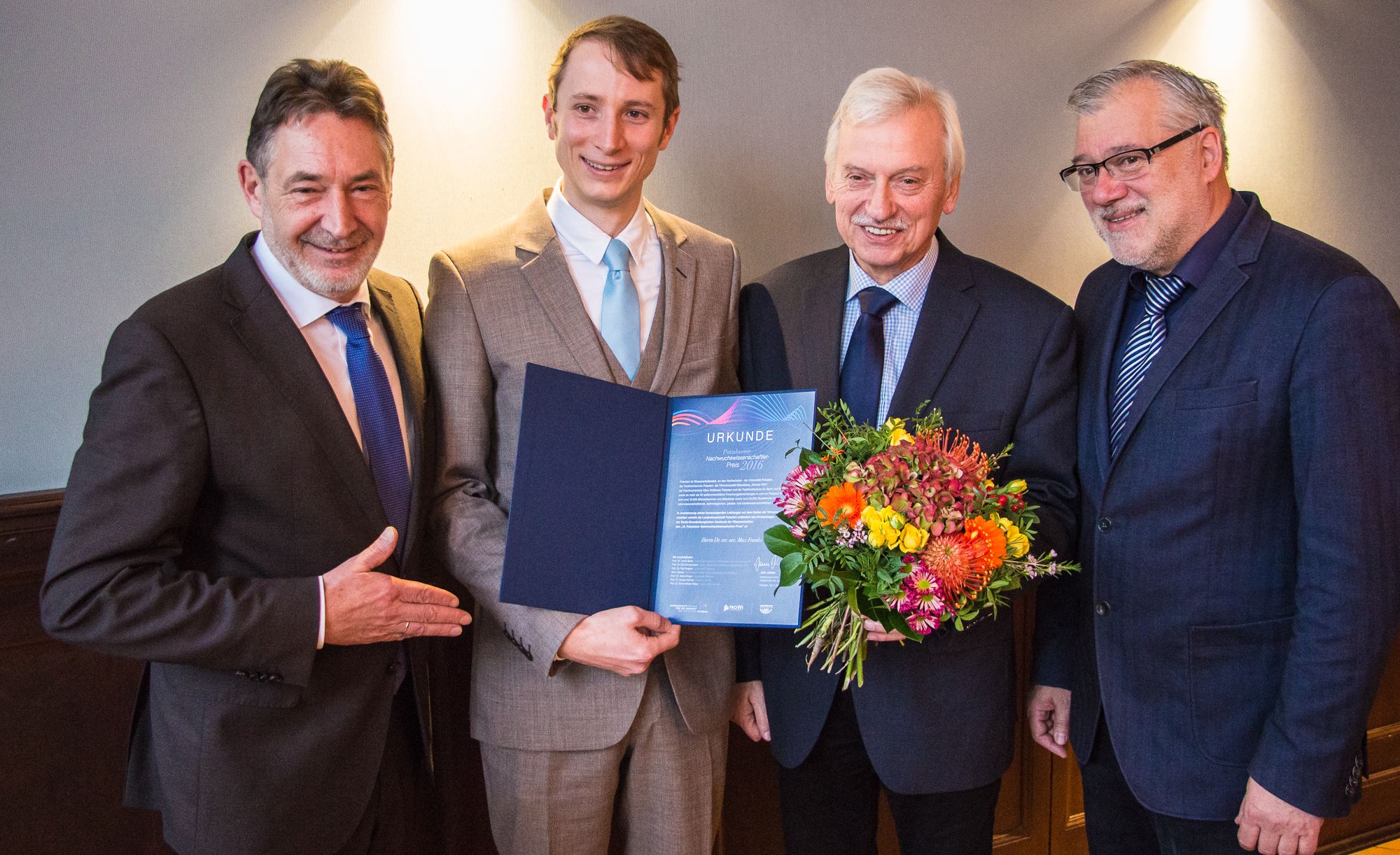 Franks is honoured for his dissertation "Rents, Taxes and Distribution: Towards a New Public Economics of Climate Change". He developed his doctoral thesis at the PIK Research Domain 'Sustainable Solutions' and completed it in July at the department Planning, Building, Development of the Technische Universität Berlin with "summa cum laude". In his work, Franks examines, how public finance, climate economy and climate policy interact with each other. He explores the impacts of emission pricing and the taxing of pensions on welfare, growth and the distribution of income and property.
"We grant the Potsdam Young Scientist Award for the tenth time already. I am particularly pleased PIK could be taken into account this year, as this institute does excellent work in relevant research areas and shines far beyond the federal state boundaries", says the Mayor of Potsdam, Jann Jakobs, who is the jury chairman. Furthermore, Ulrich Buller (former research board member of the Fraunhofer-Gesellschaft) spoke as a member of the jury, as well as Jürgen Kurths, Co-Chair of the PIK Research Domain Transdisciplinary Concepts and Methods, who suggested Franks for the award.

Weblink to the complete press release of the City of Potsdam:
https://www.potsdam.de/752-dr-max-franks-erhaelt-den-10-potsdamer-nachwuchswissenschaftler-preis
Further information about the Potsdam Young Scientist Award:
https://www.potsdam.de/kategorie/der-potsdamer-nachwuchswissenschaftler-preis
Further information about the research of Max Franks:
https://www.pik-potsdam.de/aktuelles/pressemitteilungen/co2-bepreisung-warum-finanzminister-das-klima-retten-koennten