Homepage of Professor Ottmar Edenhofer
Director of MCC - Deputy Director and Chief Economist of PIK
News
In an article published in "Le Monde" on 13 October 2016 Ottmar Edenhofer explains together with Purnamita Dasgupta and Kristin Seyboth why there is no tragic incompatibility between econmic growth and climate protection, between effectivity and equality. pdf
In a perspective published by Nature Climate Change Ottmar Edenhofer et al share a critical view on the mapping of different solutions paths for decision makers with regards to choices and their respective consequences. Link
During his visit to Australia in mid-June with presentations and meetings being held in Brisbane, Canberra and Melbourne, Ottmar Edenhofer published in the online-magazine "The Conversation" his assessment on which measures have to be implemented in order to make the Paris Agreement a success for climate policy. Link
In an article published in "Süddeutsche Zeitung" Ottmar Edenhofer continues to warn that the ongoing use of coal has to be stopped as quickly as possible, otherwise the Paris Agreement is at a great risk of failing. Link
Ottmar Edenhofer reflects on an effective emissions trading scheme in the following article: "The polluter pays" is the main principle in emissions trading. However, despite being the central pillar of EU climate protection, emissions trading has become a betting shop for policy decisions. A new study shows that the EU emissions trading scheme (EU-ETS) is controlled by announcements rather than by supply and demand. MCC researchers suggest the introduction of a minimum price. Link
For further information refer to study published in Journal of Environmental Economics and Management
In an article recently published in "Handelsblatt" Ottmar Edenhofer addresses the problems international climate policy is facing "post-Paris" to make the Paris Agreement a success. Link
Together with Christian Flachsland and Ulrike Kornek, Ottmar Edenhofer published the article "Der Grundriss für ein neues Klimaregime" in ifo Schnelldienst. Link
Ottmar Edenhofer comments in an interview published in Handelsblatt of 10 November on effective climate policy, innovative technologies and negative emissions. Link
In his contribution to the book "Unter 2 Grad" published in April Ottmar Edenhofer comments on backgrounds, contents and consequences of the Paris Agreement. Link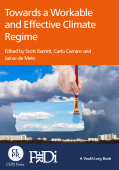 Ottmar Edenhofer authors the chapter "Beyond the 2° C limit: Facing the economic and institutional challenges" together with Susanne Kadner, Christoph von Stechow and Jan Minx, published in the eBook "Towards a Workable and Effective Climate Regime" (Eds. Scott Barrett, Carlo Carraro and Jaime de Melo, Publishers Ferdi and CEPR Press) published in November 2015. Link
The Working Group III contribution to the IPCC Fifth Assessment Report (WGIII AR5) provides a comprehensive assessment of all relevant options for mitigating climate change through limiting or preventing greenhouse gas emissions, as well as activities that remove them from the atmosphere.
Short biography
Professor Ottmar Edenhofer is Professor of the Economics of Climate Change at the TU Berlin - Berlin Institute of Technology and Deputy Director as well as Chief Economist at the Potsdam Institute for Climate Impact Research. He currently leads Research Domain III - Sustainable Solutions - which is focusing on research in the field of the Economics of Atmospheric Stabilisation. In 2012 he was appointed director of the newly founded Mercator Research Institute on Global Commons and Climate Change (MCC). From 2008 to 2015 he served as Co-Chair of Working Group III of the Intergovernmental Panel on Climate Change (IPCC), which won the Nobel Peace Prize in 2007. Ottmar Edenhofer supports the Science-Industry Cooperation, the Workgroup Climate, Energy and Environment within the German National Academy of Sciences Leopoldina as an active member, and furthermore advises the World Bank within the advisory committee of the Green Growth Knowledge Platform. Since 2013 he is also co-chairing the new Energy Platform by the European Council of Academies of Applied Sciences, Technologies and Engineering (Euro-CASE). In January 2015, Ottmar Edenhofer was elected a member of the German National Academy of Science and Engineering acatech due to his outstanding scientific achievements.
Under his leadership, Working Group III carried out the Special Report on Renewable Energy Sources and Climate Change Mitigation which was published in 2011. It was discussed widely in the public arena (Nature, NY Times, Report by Secretary-General Ban Ki-Moon in the UN General Assembly, BMU, BMBF, etc) and also launched a scientific debate on the future role of renewables. Being one of three co-chairs of WG III, Ottmar Edenhofer led the assessment cycle of the IPCC Working Group III from 2008 to 2015 "Mitigation of climate change" which produced the Fifth Assessment Report "Climate Change 2014: Mitigation of Climate Change" in April 2014. Ottmar Edenhofer authored a considerable number of articles published by Science, PNAS, Nature Climate Change and in various high-ranking environment, energy and resource economic publications and various books.
His research work is concentrating on strategies to mitigate climate change, questions of growth- and development theory, public finance, questions of distributional effects of climate policy instruments, game theoretic aspects of designing international agreements and last but not least energy economic aspects. He specializes in the Economics of Atmospheric Stabilization, Social Cost-Benefit Analysis, Sustainability Theory, Economic Growth Theory, Environmental Economics, Welfare Theory and General Intertemporal Equilibrium Theory. He leads and coordinates several externally funded research projects and was a Lead Author for the Fourth Assessment Report of the IPCC from 2004 until 2008. Currently he supervises several PhD students and Master students.
Professor Ottmar Edenhofer (born 1961 in Bavaria) studied Economics and Philosophy at the University of Munich and holds a diploma in Economics from Ludwig-Maximilians-Universität Munich (Prädikatsexamen) and a BA in Philosophy ("summa cum laude") from the Munich School of Philosophy (Hochschule für Philosophie). During his studies he founded his own enterprise, and between 1991 and 1993 led a humanitarian aid organisation in Bosnia. After working as a research assistant at the Technical University Darmstadt, he wrote his Ph.D. thesis in Economics ("summa cum laude") in 1999. He accepted the professorship at the TU Berlin in 2008.
In addition to his teaching and research, he is actively involved in public policy and in the public debate in Germany and at EU level. Until 2009 he was key climate change advisor to federal foreign minister and deputy-chancellor Frank-Walter Steinmeier. He was a member of the Advisory Board of the German Information Centre for Carbon Dioxide Technologies, IZ Klima.
Edenhofer has been interviewed by ARD and ZDF several times for their nationwide news. His interviews have been published in NATURE, DIE ZEIT, DIE WELT and Sueddeutsche Zeitung. He has written widely noted articles in FAZ and in Sueddeutsche Zeitung. His work has been highlighted in German broadcasts like Deutschlandfunk and reported on by large news agencies like Reuters and ap.
(Photo: Thomas Köhler/phototek.net)