The workshop presented the assessment process and preliminary findings of the Millenium Assessment (MA) to European scientists and policy makers. The aim of this workshop is twofold:
First, the information exchange between the different assessment activities of the MA and EEA (European Environment Agency) can be advanced and (in)consistencies among the findings can be identified and discussed. These discussions will improve all the final documents in preparation at the moment. The AVEC scientists will help in this exchange process. Special emphasis will be given to indicator use to describe status and trends, the use of narrative and quantitative scenarios and the development of effective policy strategies.
Second, based on the discussions of the preliminary MA and EEA findings, European representatives will indicate which findings that are highlighted in the assessments are most relevant for European policy at the near and longer term. This will be further explored in a panel discussion of European decision makers.
The MA will more strongly provide the global context with respect to ecosystems and human well-being (there are only two European assessments of the MA based on regions in Europe: Portugal and Sweden which will be presented also at the workshop), while EEA's assessments more strongly focuses on Europe.

Background
The EU-funded concerted action Integrated Assessment of Vulnerable Ecosystems under Global Change (AVEC: www.pik-potsdam.de/avec) established at the Potsdam Institute for Climate Impact Research connects scientific scenario-orientated ecosystem assessment projects in Europe by creating opportunities for intensive exchange. One of its major goals is to foster a growing European network of research on defining and identifying ecosystem vulnerability to environmental change. AVEC is coordinating timely topical workshops, organises a post-graduate students summer school and produces several commissioned papers.
The Millennium Ecosystem Assessment (MA: www.millenniumassessment.org) is the most extensive international study ever of the linkages between the world's ecosystems and human well-being. It offers decision-makers a mechanism to identify options that can improve upon core human development and sustainability goals and better understand the trade-offs in decisions about development and the environment. Over the last years several reports have been drafted and are currently being reviewed. Over the summer of 2004, comments will be incorporated, after which a second review process starts. The final reports will be published early 2005.
The European Environment Agency (EEA: www.eea.eu.int) aims to support sustainable development and to help achieve significant and measurable improvement in Europe's environment through the provision of timely, targeted, relevant and reliable information to policy making agents and the public. EEA, among others, produces regularly the state-of-the environment in Europe report, for which the next is scheduled for 2005.
These three complementary organizations, each with their specific contributors, activities and audience, pooled resources to organise this workshop on "Global Change and the Future of Ecosystems in Europe" to connect European scientists and decision makers in order to make them all aware of the process and findings of the MA. This is needed to be able to further apply the policy-relevant MA insights to European conditions and environmental policy development.
Thursday, 10 June 2004
10.00 Registration at EEA reception

10:30 Introduction
Welcome
by Jacqueline McGlade, Executive Director EEA
Objectives of the workshop
by Wolfgang Cramer, AVEC and Teresa Ribeiro, EEA

11:00 The Millennium Assessment
Chaired by Wolfgang Cramer
Overview, process and outreach (pdf: 1,4MB
by Hal Mooney
Condition and trends: Goals and preliminary findings (pdf: 200KB)
by Hal Mooney
Scenarios: Goals and preliminary findings (pdf: 200KB)
by Monika Zurek
Responses: Goals and preliminary findings (pdf: 500KB)
by Rik Leemans
Sub-global assessments: Synthesis and case studies (Portugal (pdf: 400KB) and Sweden (pdf: 400KB))
by Tiago Domingos and Lisen Schultz
12.30 Discussion in Plenary

13.00 Lunch break (Lunch offered by EEA in guest canteen)

14:00 Introduction to panel discussion
Chaired by David Stanners, Programme Manager, EEA
What can we learn from MA? Relevant MA methods and findings (pdf: 1MB)
by Jacqueline McGlade, Executive Director EEA
Global change impacts on ecosystem services and the vulnerability of the human-environment system – The European assessment ATEAM (pdf: 1,8MB; ATEAM tool pdf: 700KB)
by Dagmar Schröter and Marc J. Metzger
14:30 Panel discussion (Panellists invited: awaiting confirmation) Chaired by David Stanners, Programme Manager, EEA
Pierre Valette, Director acting, DG Research
Stefan Leiner, Environmental Agreements and Trade, DG Environment
Frits Schlingemann, Director UNEP, Regional Office for Europe (UNEP/ROE)
Wolfgang Cramer, Head of the Department Global Change and Natural Systems (PIK)
Helen Mountford, Counsellor, Environment Directorate OECD
16.00 Questions from the floor and open discussion
16:30 Summary and comments from the scientists and assessors
Chaired by Hal Mooney, summarised by Rik Leemans
17:00 Visualising the future

18:00 Reception with snacks offered by EEA in the guest canteen

Friday, 11 June 2004
9:00 Global, European and local aspects of assessments
Chaired by Rik Leemans
What is an assessment? (pdf: 700KB)
by Rik Leemans/Wageningen University
EU Sustainable Development strategy – an environmental perspective (pdf: 40KB)
by Stefan Leiner, DGENV
The Millennium Development Goals: findings from the MA (pdf: 300KB)
by Ferenc Toth, IAEI
New approaches to the spatial dimensions: Land ecosystem accounting (pdf: 3,3MB) and land-use scenarios (pdf: 500KB)
by Ronan Uhel and Teresa Ribeiro, EEA

11:00 Discussion in break-out groups
The European perspective Users have been asked to provide their needs from environmental assessments for their own decisions, and address the following questions:
How to improve the usability of the MA for various EU users?
How can Europe contribute to the MA?
How can different methods and approaches support and complement each other?
How could EU RTD programs support ecosystem research in the future?

12:30 Plenary session
Syntheses and next steps
by Jacqueline McGlade, Executive Director EEA
13.00 Closure

13:30 Lunch offered by EEA in guest canteen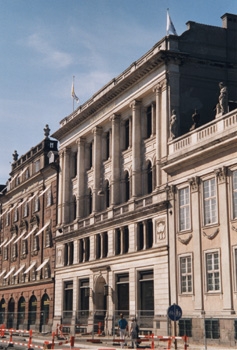 The beautiful home of the EEA


The workshop took place at the
European Environment Agency
Kongens Nytorv 6,
DK-1050 Copenhagen K,
Denmark
http://www.eea.eu.int/

You can have a look at a map for the exact location.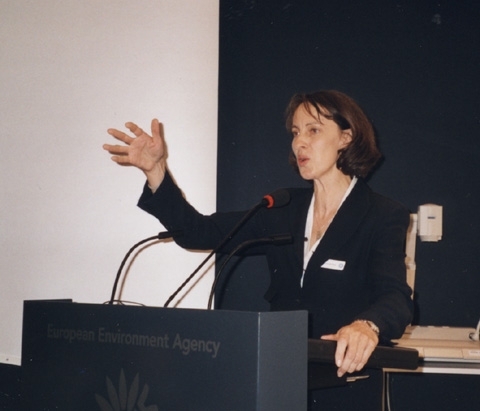 Jacqueline McGlade, Executive Director EEA




Visualising the future are (from left to right) Wolfgang Cramer, Laurie Geller, Claus Beier and Jacqueline McGlade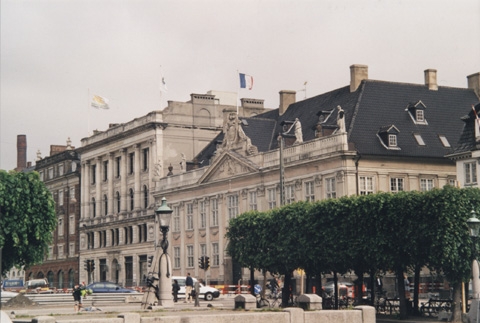 The EEA building with the French Embassy on the right